Amb. Colin Crooks Speaks at Dulwich Talks - Business Korea
U.K. Ambassador Tells Seoul Students of Life in North Korea - before and after COVID-19 Struck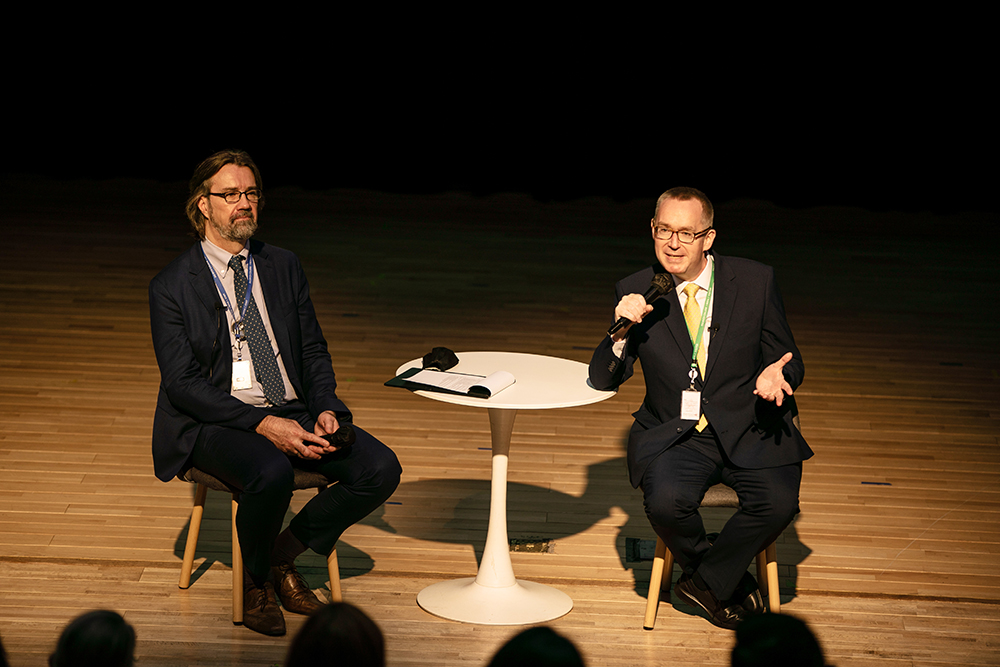 British Ambassador to South Korea Colin Crooks revealed candid details of his life in North Korea while addressing students and parents at Dulwich College Seoul (DCSL) on June 9.
Amb. Crooks spoke at the latest Dulwich Talk, a TED-style talk series, as he visited the pre-K-12 international school's central Seoul campus less than four months after he took up his current post. He is the first British diplomat to consecutively serve as ambassador to both Koreas. He was stationed in North Korea in 2018 and left the country in 2020 due to the COVID-19 pandemic.
"When the pandemic struck, [authorities] sealed the borders with me and two colleagues still at the embassy. We went through a quarantine and could not bring in people, supplies, or even letters," Amb. Crooks recalled.
He added that he has a successor ready to serve in North Korea again when it is possible. But for now, Amb. Crooks reflected that he is the "last British citizen to step foot in North Korea because no one else has been able to enter since May 2020."
Even though he eventually left Pyongyang, the ambassador said he had moved there without his family and the pandemic made the separation even harder.
The Ambassador's visit to the college was timely in that the school recently celebrated the Queen's Platinum Jubilee with its community of parents and students on campus. He opened his talk by relaying his connection to the Dulwich family, as his younger son graduated from Dulwich College Beijing, part of the family of schools Asia-wide.
"Amb. Colin Crooks has such a rich background and it was fascinating to hear from him. It was also wonderful to see how engaged the students were with their great questions. I'm sure every member of the audience came away greatly inspired," said DCSL Head of College GudmundurHegner Jonsson. "We have been blessed with a series of brilliant thought leaders in recent months, and I hope we can go into the summer even more energized to strive for our values of academic excellence, sustainability, and community."
A group of parents and about 200 students aged 11 to 13 listened intently. There was much curiosity about the speaker's time in North Korea, which he documented through social media posts that he said he was "scolded" for by North Korean authorities at the time.
"You could talk to embassy compound staff, shopkeepers, and workers in bars and restaurants, but generally not ordinary people except on public holidays when people would be out eating and dancing in parks. On occasions like that, you could talk to them - I remember even getting dragged into singing karaoke with them!" Amb. Crooks said.
His first post as a diplomat was in South Korea in 1995. He is fluent in Korean among several other languages. He helped organize Queen Elizabeth II's visit to South Korea in 1999. Having witnessed its rapid economic and cultural expansion in recent decades, Amb. Crooks said South Korea shares "fundamental values" with Britain, including market economics, environmental awareness, democracy, human rights and the rule of law. He seeks to bring his experiences together and find ways to cooperate on solutions together. He called South Korea a "second home".
Students asked what inspired him to become a diplomat and what it is like to be one. Amb. Crooks said he grew up in a small town in Northern Ireland and dreamed of seeing the world. He did so when he was old enough and has been loving every minute of it since. He said being a diplomat is "a marvelous career" and he would not change anything about his own experience. He added that language ability, having an international outlook and living overseas is "a great basis for having a diplomatic career." What he likes most is the "sheer variety of tasks" on a normal day.