Art at the Dulwich Olympiad
Art at the Dulwich Olympiad
Art at The Olympiad!
Jet lag gave way to excitement, fun and creativity for our six travelling artists last month at the 400 Year Olympiad hosted by Dulwich College London. After an exhausting journey to the UK, our artists (along with the rest of the Dulwich College Seoul team), dived straight into the very best of London's Art and Cultural scene with a tour starting at the National Gallery, heading through Southbank and ending at the Tate Modern.
On arriving at Dulwich College London, the artists were amazed by the impressive architecture of the college itself. They were quickly put to work during an "Art Hijack," in which fortune cookies revealed a hidden drawing task to complete on a postcard. These then became part of a large installation displayed in one of the historic halls. The majority of the artists' time was spent in their workshops in which they worked alongside professional artists including puppet maker, Sian Kidd and ceramicist, Sarah Christie. Possibly the most impressive qualities demonstrated by our artists during this time wasn't necessarily their creative competence or innovation, but their confidence, humour and compassion.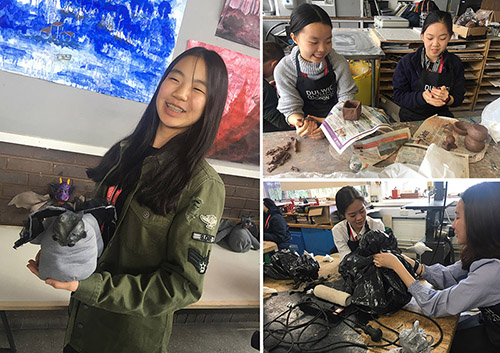 All six students fully embraced every opportunity to work with adults and other students that they had only just met, clearly having a great time in the process. We even managed to squeeze in another trip to Southbank to visit the Hayward Gallery and spend time with the art students from Dulwich College Beijing. One student in particular demonstrated enormous amounts of courage and composure, when she took to the stage at the closing ceremony. Speaking in both Korean and English, Suan bravely made a speech about her Art experiences in front of the other colleges in the spectacular Great Hall. The trip was a truly memorable experience that I'm sure has impacted our creative and international perspectives.
Thank you and well done, to our six international artists…
Suan K Julia K, Clarise J, Ally L, Ina Lee and Ashley N
Mrs Shelley Swain
Head of Art and Design