Dulwich Festival of Music

Our College had the privilege to host Dulwich Festival of Music this year, a great Dulwich-wide music event for Senior School students. Two hundred students and twenty teachers from eight Dulwich Colleges got together on our site to make music together in the festival orchestra, choir, big band and rock bands. Three days of high-energy rehearsals and incredible collaboration among young musicians from the different colleges culminated in one brilliant Gala concert of 'Best of British', a showcase of many great songs and pieces throughout the history of British music from 16th century Thomas Morley to Adele and Ed Sheeran.
Please see a detailed report by our talented student Jessie Lee, who took part in the festival orchestra as principal clarinet player.Please see a detailed report by our talented student Jessie Lee, who took part in the festival orchestra as principal clarinet player.
Thursday (November 15th) night marked the beginning of the 2018 Dulwich Festival of Music, with a spectacular opening concert by our talented hosts of the event. After a long day of travelling, the participants all returned to their hotel to rest for the long day ahead. The following day, we officially started our first day of full rehearsals, and many of us were exhausted at the end of the day. Nonetheless, all our bands and the orchestra really started to come together, and the energy during the rehearsals was indifferent- everyone was happy and excited to be here, and most importantly, everyone's passion for music could be heard through the music they played. That night we were in for a little surprise, as we all went Scottish dancing after dinner, which was great fun. Although embarrassed and hesitant at first, by the end of it, both students and teachers were absolutely loving it
Despite being very tired from all the rehearsing on Friday, Saturday started off with a joyful and lively atmosphere. Then came the long-awaited Dulwich Young Musician of the Year competition, in which two of our very talented students, Sun-A (Year 10) and Daniel (Year 9) competed in. The competition was fierce and all the participants set the standards of this year's competition to be very high. Both Sun-A and Daniel were marvellous, and congratulations to Daniel, he won the Dulwich Young Musician of the Year competition! A special mention to Victor (Year 9) who was the accompanist for Daniel's entry.
Then came a little surprise; Mr Salt entered the stage and entertained the very tired audience with a song called, 'Can you stand on one leg.' Although a bit too late to enter the competition, he definitely stole the spotlight!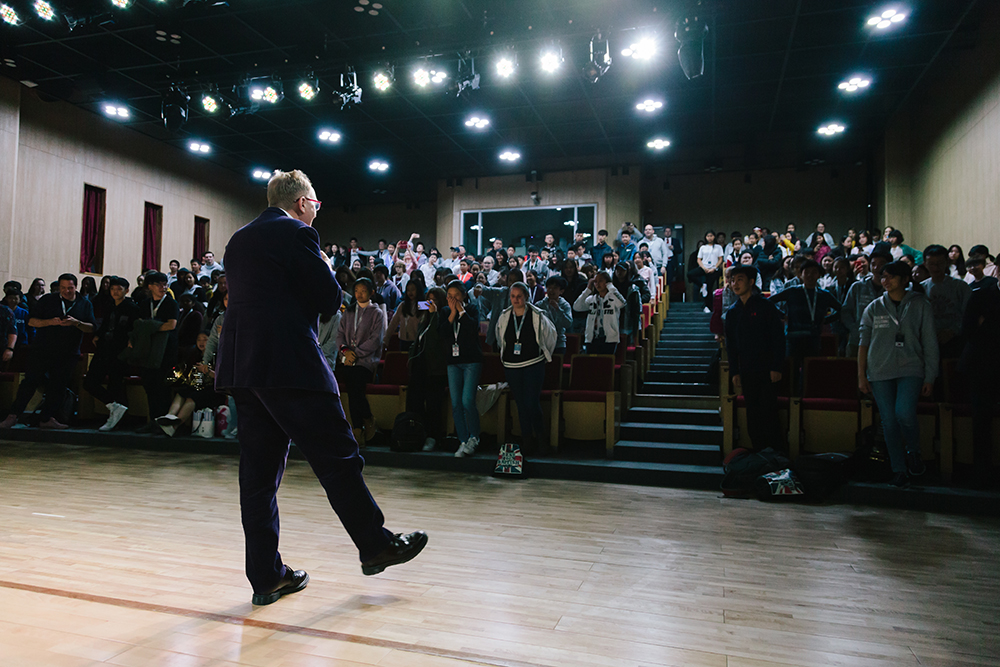 Sunday came, the day we all worked so hard for. The gala concert was an amazing success, a 22 piece repertoire with more than 200 students and teachers on stage. The theme, Best of British, really stood out as the audience was eager to sing along to some of the most patriotic songs. The British flag decorated on each and every single one of the participants on stage really shone bright, and the concert ended with an amazing finale that everyone really enjoyed. Thank you to all the teachers and students who participated, and most importantly, thank you to everyone who came and enjoyed the music we prepared. One last special mention to Ms Mitford, our amazing Head of Music who made all of this happen.
Jessie (Year 12)