FOBISIA Primary Mathematics Competition Bangkok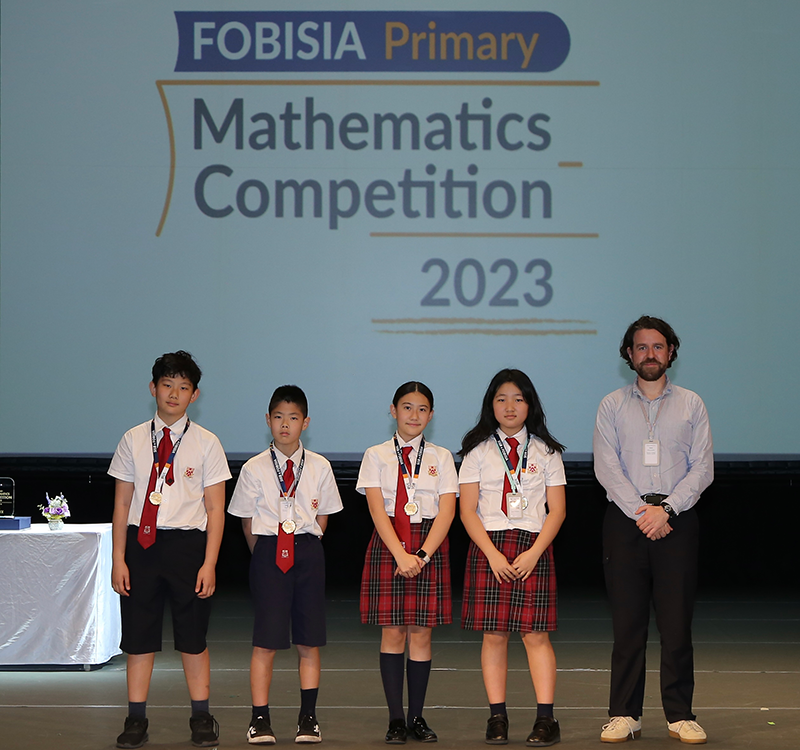 From 16 March - 19 March 2023, our magnificent Year 6 mathematicians, Amelia, A Joon, Eugene and Minjae had the amazing opportunity to join Mr Gomersall and Ms Goddard on a trip to Bangkok for the Primary FOBISIA Mathematics Competition. The event was hosted by Singapore International School Bangkok (SISB) who planned meticulously and made sure we had a wonderful time. After a six-hour flight, we arrived in Bangkok where the team's first comment was, "It's so hot!". On arrival at the school, we were welcomed with some delicious local food for dinner and a variety of wonderful performances of traditional Thai music, Thai dancing and even some K-Pop dance performances, which made us feel right at home.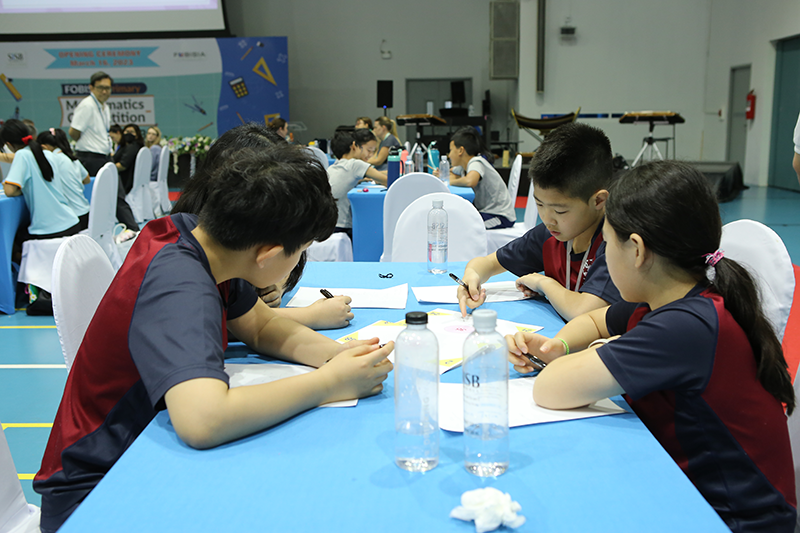 The next day was time to get ourselves in the zone for the competition. We started off with the Maths Mastermind: a speed challenge whereby students worked as a team to solve as many questions as possible within an hour. DCSL gained extra points for being one of the few teams to write equals symbols when writing their equations! Out of 26 teams, we were 6th after the first round; a great start.
After a snack of custard steamed buns, we were shuttled off to the Bangkok Discovery Museum, which was the location for the Amazing Race: a race to complete STEM (Science, Technology, Engineering and Maths) challenges at stations assigned around the museum. The tasks ranged from measuring and finding the average circumference of trees, working out the ratio of ingredients in a drink and building a geometrical city with specified angles and shapes. Our team managed to complete these main tasks with time to spare and even managed some of the challenges. Wonderful teamwork and communication from all. After a very busy day, it was an early bedtime to recover, ready for the challenges ahead.
On Saturday, we were energised by the spicy Thai breakfast and ready to challenge our brains. We began the day with the individual test round: a mammoth one and a half hour maths test. All students did very well in this, with a special mention to Eugene for gaining a Silver award for being in the top 15% and Minjae for gaining a Bronze award for the top 30%. Next up was the Math Escape Room: a digital activity whereby students solved the questions to generate a code which enabled them to unlock the lock. After unlocking all the locks, students were able to ´escape´. DCSL picked all the locks to finish joint 1st in this round! The final round of the day was the live buzzer round, which proved to be rather chaotic with 26 teams. It ended up being pure luck whether teams got to their buzzers first. A frustrating round and a time to be reflective.
The final results were very close, and we were proud to be 13th out of 26 teams. A great achievement after all their hard work. Our team could not have represented the school better, they demonstrated excellent teamwork, were kind to everyone and were reassuringly reflective after every round. A huge well done to them for all their hard work and a thank you to all their teachers and Ms Cindy for helping them prepare. Bring on next year!
Mr Marcus Gomersall
Junior School Maths Leader