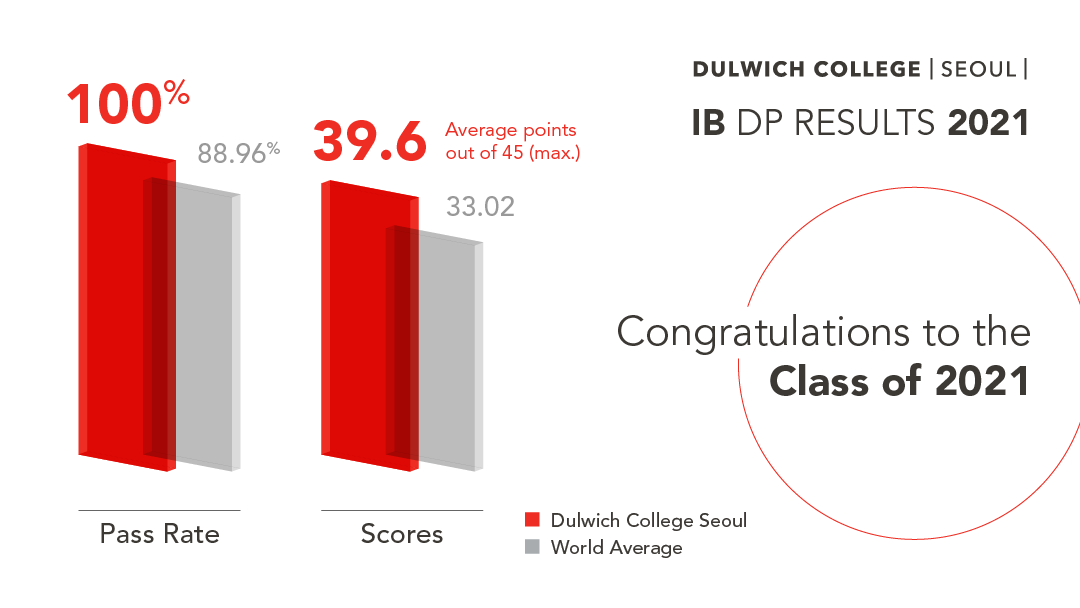 We are extremely proud to announce that the International Baccalaureate Diploma Programme (IBDP) exam results for our 2021 cohort are our highest ever! IB Diploma students achieved an astonishing average point score of 40 and boasted a 100 percent pass rate. The results compare to this year's average score of 33.02 points and an average 88.96 percent pass rate, respectively, based on 170,000 IB Diploma students from around the world who received results this week (source: International Baccalaureate Organization website, as of 7 July 2021). The stellar results are especially impressive given students faced a challenging year of uncertainty and upheaval amid the COVID-19 pandemic.
The IB Diploma Programme (IBDP) is a rigorous two-year programme of international education for students ages 16 to 19 that prepares students for university and life in a global society. IBDP students follow six courses: three at Higher Level and three at Standard Level. The points awarded for each course range from 1 (lowest) to 7 (highest). Students can also be awarded up to three additional points for their combined results on the Extended Essay and Theory of Knowledge. The highest possible total score for the IB Diploma is 45 points. The IB Diploma is awarded to students who gain at least 24 points, subject to certain minimal levels of performance across the whole Diploma and to satisfactory completion of Creativity, Activity and Service requirements.
Learn more about our IBDP here.
Congratulations to all the students for their fantastic achievements and a big thank you to the teachers who supported our students during a difficult time!