DUCKS Rainbow Kitchen Opening at Dulwich College Seoul
DUCKS Rainbow Kitchen Opening at Dulwich College Seoul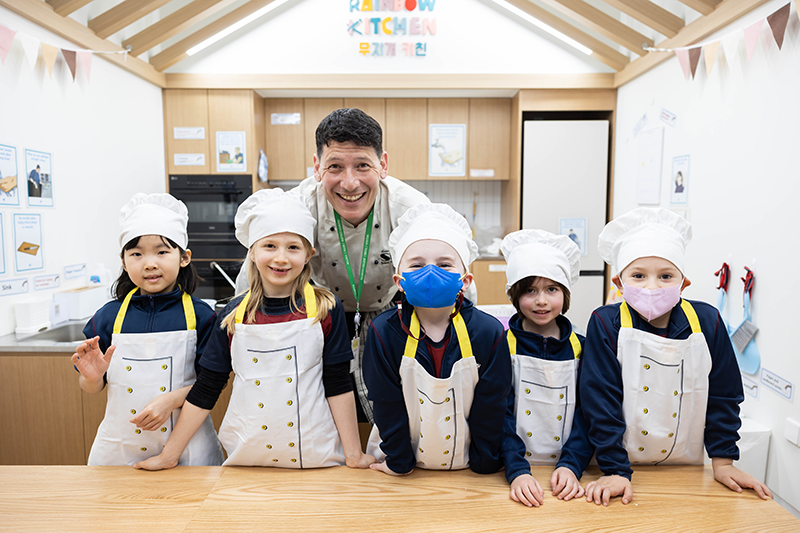 Dulwich College Seoul recently opened a brand new kitchen space for DUCKS. The space's design was inspired by traditional Korean architecture known as hanok with wooden beams that make the space feel classic and modern at the same time, as well as welcoming and cozy. We named the space Rainbow Kitchen to reflect our values around eating a healthy plate of food of all colours.
One recent day, we welcomed local Chef Ryan Phillips from Bear Foot Gardens for the Rainbow Kitchen Opening.
After a ceremonious ribbon-cutting to officially open the beautiful space featuring our Head of College Gudmundur Jonsson and mc-ed by our Head of Primary School, Jane Smith, our youngest DUCKS students learned about healthy and sustainable eating from Chef Ryan. He also worked with our cooking apprentices in their chef hats and aprons to make a staple Mexican dish called chicken sope, which is like an open-faced taco topped with shredded chicken, black beans, salsa and fresh cheese students had made on the spot!
Wellbeing and sustainability are important Dulwich values and Chef Ryan discussed why we should all do our part to reduce food waste and eat sustainably to combat climate change.
After the cooking session, Chef Ryan, students and staff all helped out to clean up and a few lucky students got to sample the scrumptious dish, which they relished to the last bite. We would like to thank Chef Ryan for helping to kick-off our Rainbow Kitchen with gusto and sharing his time and expertise with us. Our students had a wonderful time and we look forward to seeing what amazing concoctions our students cook up in the new space!