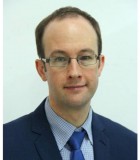 Richard Nunns
Deputy Director
Dulwich International High School Suzhou
Having previously worked in an A-level centre at a top Chinese school, I knew that I loved working with Chinese high school students. So when the opportunity arose for me to continue working in a Chinese programme and also receive schooling for my kids as part of the package I jumped at the opportunity to work at Dulwich International High School Suzhou.
From my knowledge of A-level programmes in Jiangsu, I can confidently say that our programme is the best in terms of providing a very broad education that is targeted to the specific needs of Chinese high school students preparing for study at foreign universities. I would challenge any other school to show that they have a more diverse, committed, qualified, motivated staff than can be found in our programme. There is often debate and sometimes disagreement amongst the staff – but all of this stems from the passion of teachers wanting their students to succeed. In my current role as Head of AS / A2, I find that there are plenty of opportunities to work closely with students, parents and colleagues to further improve our programme as we reconcile Chinese and Western practices and thinking.
My personal opinion is that some teachers who have not worked closely with Chinese students have some incorrect perceptions of them. Within our programme that there is a very broad range of students with a wide range of personalities – I can find myself helping a student understand some basic concept one minute and then the next minute have my own views on some matter questioned in a very articulate manner. Our programme certainly is not just for the academically elite, although of course we do have a fair number of such students. Where our programme really excels, in my opinion, is in guiding every single student to achieve their best – both academically and personally – and thus be prepared for a successful life at university and beyond.
Having lived in lovely cities and both the UK and China, I feel that Suzhou is really a great place for a family. It is much more laid back than Shanghai, yet only 20 minutes away on the fast train. There is the combination of the old and new, the Western and the Chinese. There are plenty of activities for kids and lots of beautiful countryside to explore at weekends. The combination of my work at DHSZ, the international school for my kids and the great family life here in Suzhou mean that I see my family staying here for quite a while.
---