COVID-19 Policy
We would like to thank the Dulwich College Seoul community for their patience and understanding as we continue to navigate the changing circumstances around the pandemic.
The following policy was updated on 4 September 2023.
Any student or staff who has COVID-19 symptoms:
Do not come to school, stay at home. Take a self-RAT (Rapid Antigen Test).
You may return to school only if you are symptom-free for 24 hours and, upon returning to school, you must wear a mask for 3 days.
If self-RAT is positive, take a professional RAT or PCR at a clinic to confirm as soon as possible. Stay at home until you receive the result.
If a professional RAT or PCR is positive, inform the College Nurse immediately.
Please follow the College guidelines below based on the Korean government policy.
■ COVID-19 Introduction
A. Fever criteria
The body temperature of 37.3°C or above.
B. COVID-19 signs and symptoms can include:
Fever (37.3 °C or above)
Cough
Difficulty in breathing
Chills, muscle/body aches
Headache and/or sore throat
New loss of taste/smell
Fatigue, loss of appetite, excessive phlegm, nausea, vomiting, diarrhoea
Confusion, dizziness, runny/stuffy nose, hemoptysis (coughing up blood), chest pain, conjunctivitis (pink eye), skin problems, etc.
■ Daily precautions
A. Before going to school
• Parent/guardian should check student's health condition such as body temperature, symptoms, etc.
• Students and staff should stay at home if they have COVID-19 symptom(s). Take a self-RAT (rapid antigen test) or professional RAT. See below for what to do if you get a positive Covid result. Stay home until you receive a negative result.
• We strongly advise students and staff to rest at home until they are well and have no COVID-19 symptoms, even if they have a negative test (self-RAT, professional RAT) result.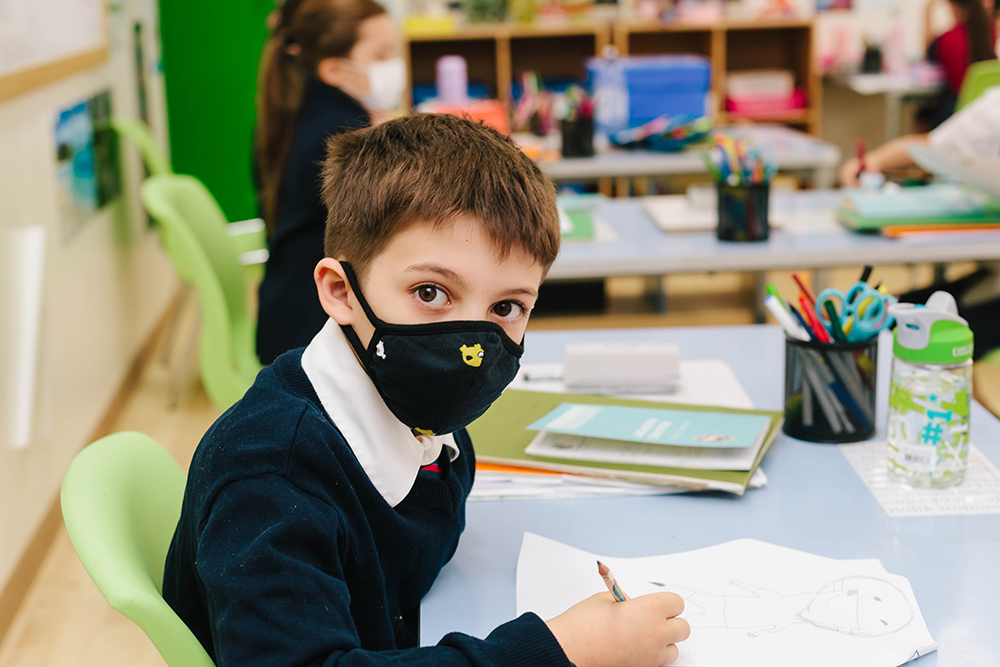 Protocols for COVID-19 symptoms and confirmed positive cases
A. When a student or staff member develops COVID-19 symptoms at school:
1. The symptomatic student or staff member must visit the nurse's office and go to the designated isolation area immediately. They must wear a mask in the isolation area. The nurse will send communication to parents alerting them of the situation.
2. Students or staff members must complete a self-RAT for COVID-19 away from campus.
3. If the self-RAT is positive, the student or staff member must go and take a professional RAT at a doctor's clinic to confirm.
4. If you test positive (confirmed) on one of the tests above, contact our nurse at nurse@dulwich-seoul.kr. All information will be kept confidential.
5. Students or staff must stay home for at least 3 days.
6. If the student or staff is symptoms-free, they may return to school on "day 4". Please note a student or staff must be symptoms-free for 24 hours before returning to school.
7. Upon returning to school, students and staff must wear a mask and limit social contact. However, if the student or staff member exhibits any hint of symptoms after they return, they will be sent home.
B. Recommended guidelines for staying at home due to COVID-19 symptoms.
1. Please avoid outdoor activities.
2. Check signs and symptoms including body temperature twice a day.
3. Stay in his/her room to avoid contact with others.
4. Shut the room door and open the windows frequently to ventilate the space.
5. Use a space with a toilet and sink that can be used alone. If the bathroom is shared with others, it needs to be cleaned and disinfected.
6. Do not share towels or utensils with others.
7. Wash your hands with soap and water or hand sanitizer frequently.
8. Wear a mask and cover your mouth and nose with your sleeve when coughing or sneezing. Wash your hands after coughing or sneezing.