Strategy for COVID-19 Management:
We greatly appreciate the community's patience and understanding as we navigate the developing circumstances in Seoul around COVID-19 infections.
The following policy was implemented from Tuesday 19 April.
1. Students and Staff who have NOT had COVID-19 in Last 90 Days:
Mandatory at-home Rapid Antigen Testing:
The school provides all students with one free RAT test kit per week. All students and staff must take a RAT test for COVID-19 at home, regardless of COVID-19 status once per week:
Sunday evening/early Monday morning before leaving home
If negative, the student/staff member may come to school so long as they have no COVID-19 symptoms (see below for a list of possible symptoms). Students who have symptoms on arrival at school or who develop symptoms during the school day will be isolated in school and parents contacted to collect them for a RAT test.
2. Students and staff who have had COVID-19 in the past 90 days:
Students and staff who have had a confirmed case of COVID-19 (confirmed with a PCR or equivalent test) and has subsequently been 'released' from quarantine are exempt from having to do further RAT/PCR tests for 90 days. Proof of clearance/release from quarantine should be sent to the College Nurse.
3. Procedure for close contacts:
Parents of close contacts of confirmed cases will be notified at the end of the school day. Close contact students will no longer be sent home on the day a case was confirmed, but must take another RAT test before coming to school the following day. Students identified as close contacts may return to campus the next day ONLY if they take a RAT and test negative. Note there is no need to fill out a survey to indicate the result. However, if the test is positive, the nurse must be notified immediately at nurse@dulwich-seoul.kr.
These guidelines apply to all students regardless of vaccination status. This strategy will reduce the chances of community members with COVID-19 coming onto campus.
Overview of daily precautions
Dulwich College Seoul is taking the following steps to keep students, staff and parents safe from COVID-19.
All students and staff check their temperature at least twice a day.

All students and staff wear a mask at all times and in all places, with exceptions for eating, swimming, and playing a wind instrument. (Fabric masks, dental masks, KF80 masks, and KF94 masks are acceptable)

All students and staff wash hands with soap or use hand sanitizer frequently.

Follow coughing etiquette (turn head away and cover mouth with tissue or sleeve when coughing).

All students and staff must follow social distancing rules (1-2 metres as recommended by KDCA).

Clean and disinfect school buildings, classrooms and restrooms daily.

Open classroom windows before, during and after lessons for ventilation.

Students displaying symptoms are placed in a separate observation room by nursing staff.

Snack and lunch protocols include a staggered schedule, adjusted seating and transparent dividers.

Visitors, including parents, are allowed on campus if they have tested negative with a RAT and do not have any COVID-19 symptoms. Visitors and parents may enter following a temperature check.
Protocols for COVID-19 symptoms and confirmed positive cases
When a student or staff member develops COVID-19 symptoms at school:
The symptomatic student or staff member must visit the nurse's office and go to the designated isolation area immediately. The nurse will send communication to parents alerting them of the situation.
Students or staff members must complete a RAT for COVID-19.
School will operate as normal while waiting for the test result.
If the RAT is negative, the student or staff member may return to campus.
If the RAT is positive, the student or staff member must go to a PCR test centre.
If the PCR test is negative, the student or staff member must submit a screenshot of the result to covidtest@dulwich-seoul.kr
If the PCR test is positive, contact our nurse at nurse@dulwich-seoul.kr. All information will be kept confidential.
If a student is taking prescribed medication due to other illnesses with symptoms similar to COVID-19, they should not return to school until completing the course of the medication. They may return to campus once they have completed medication and have been asymptomatic for 24 hours.
When a student's family member or cohabitant have any COVID-19-like symptoms:
School should be notified immediately (teacher, nurse, and reception desk).
We strongly advise family members or cohabitants get tested for COVID-19.
If a family member or cohabitant of a student or staff member is a confirmed positive case of COVID-19:
School (teachers, nurse, and reception desk) should be notified immediately
Other family members or cohabitants must complete a PCR test for COVID-19 immediately
Daily Morning Protocol
Parents:
All parents and guardians must take the body temperature of each child before school.
Children must stay at home if they are showing any COVID-19-related symptoms.
Do not administer fever-reducing medication as this may cause difficulties in identifying COVID-19-related symptoms if they were to come to school.
Parents should consult a doctor and test for COVID-19 if necessary.
Students:
Students' body temperatures are checked before boarding the school bus.
Students must wear a mask covering their nose and mouth at all times except when eating, drinking, swimming, or playing a wind instrument.
Upon arrival at school
We monitor the body temperature of all of those entering the College using a thermo-screening camera.
Everyone must wear a mask covering nose and mouth and security guards will provide hand sanitizer to disinfect hands.
Everyone must maintain a distance of 1m while queueing to enter school.
School lessons
Guidelines around PE class
PE classes are allowed
Intense exercise should be avoided
Swimming pool
Swimming classes are allowed if in compliance with basic disease prevention rules.
Outdoor activities or school trips
Small-scale outdoor activities are permitted.
No overnight school trips are allowed
Weekend activities
Weekend activities are allowed for students
All school entry and exit procedures follow same protocol as regular school days
Essential meetings for school operation (Open Houses, conferences, consultations, etc.)
Friends of Dulwich and other parent events are permitted
School tours for admissions are permitted
Additional work necessary for school operation is permitted with approval from the Head of College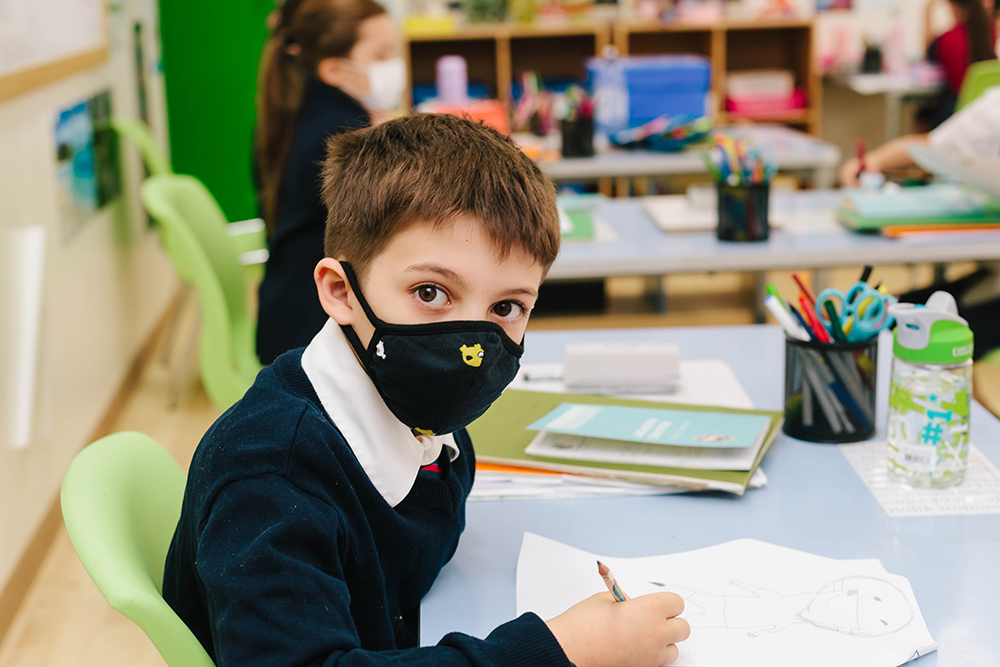 Classroom Protocol
Students' body temperature is checked twice a day (on arrival at school and before lunch).
Students wear a mask covering their nose and mouth at all times except when eating, drinking, swimming, or playing a wind instrument.
Students with a body temperature 37.3 °C or higher will be escorted to the nurse's office and taken to the designated observation area. The nurse will contact the student's parent or guardian.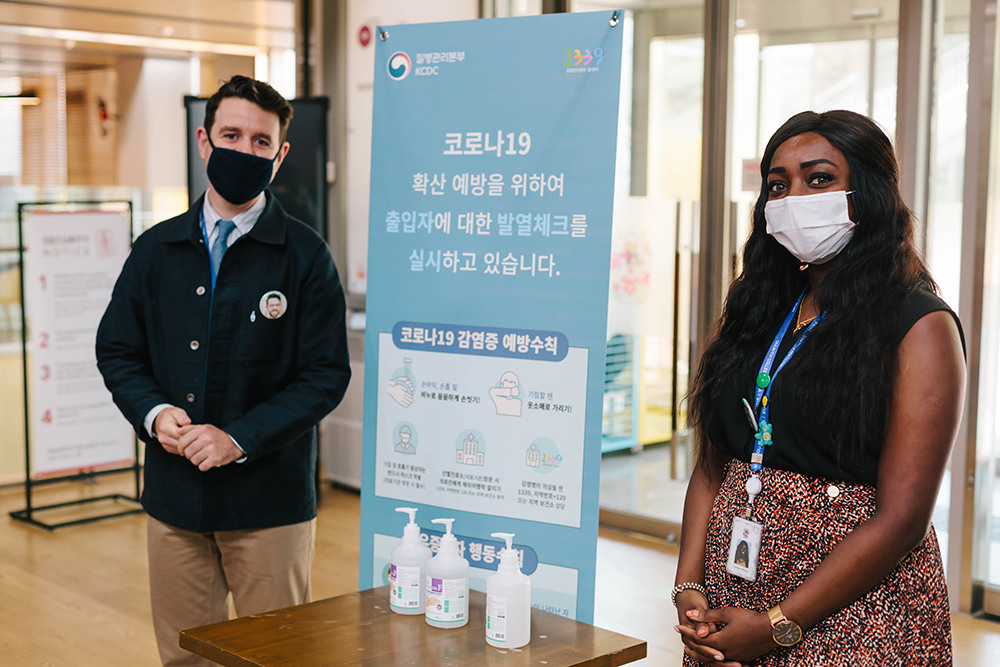 COVID-19 Updates
Government announcements
1 December 2021: School Action Manual according to all student attendance.

19 November 2021: Announced "Basic action of School Disease Prevention (Ver. 5-2)"

9 November 2021: Report for present status of student attendance to SMoE

2 November 2021: Inform for main guide following to 'The Pandemic management phase1- Returning to normality'

1 November 2021: Guide on School academic management plan according to 'The Pandemic management phase 1- Returning to normality'.

1 October 2021: Guide on school management plan according to maintaining level 4 of social distancing rules for another 2 weeks (until Sunday 17 October 2021)

6 September 2021: Guide on School management plan according to maintaining level 4 of social distancing rules for another 4 weeks (until Sunday 3 October 2021)

27 August 2021: Notice for uploading "Basic action of School Disease Prevention (Ver. 5-1)" on SMOE website (mobile application set up as well)

23 August 2021: Guide on school management plan according to maintaining level 4 of social distancing rules (until Sunday, 3 September 2021)

12 August 2021: Notice for "Basic action of School Disease Prevention" (Ver. 5-1)
COVID-19 symptoms include the following:
- Fever (37.3 °C or above)
- Cough
- Difficulty breathing
- Chills, muscle pain, body aches
- Headache and/or sore throat
- New loss of taste or smell
- Fatigue
- Loss of appetite
- Excessive phlegm
- Gastrointestinal symptoms (nausea, vomiting, diarrhea, etc)
- Confusion, dizziness
- Runny and stuffy nose
- Hemoptysis (coughing up blood)
- Chest pain
- Conjunctivitis (pink eye)
- Dermatological conditions (skin problems)
■ Contact numbers
A. Korean Disease Control and Prevention Agency
TEL.1339
- https://www.kdca.go.kr/index.es?sid=a3
- https://korean.cdc.gov/coronavirus/2019-ncov/index.html
B. Seocho Health Authority: TEL. (02) 2155-8093~5
C. SMoE, Gangnam-Seocho Education Support Office:
TEL. (02) 3015-3488